Best Tips:
Please call
888-769-4204 today for more information or to schedule your appointment or click here to schedule an appointment online.
Timing Belt
Timing belt non-interference & interference engines
as you guessed...Interference = BAD!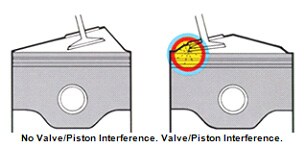 Timing belt-equipped car engines can be classified as either free-running or interference, depending on what occurs if piston/valve synchronization is lost due to a failed timing belt. As illustrated above, an interference engine usually sustains damage if synchronization is lost. This could result in very expensive engine repairs.

Timing belt failure on interference engines can result in serious engine damage. See manufacturer's maintenance manual for specific information. Belts of similar dimensions and tooth profiles are not interchangeable due to varying construction features. Misapplication of belts voids manufacturer's warranty.